Mentored Fundraising Assignment 5 Homework Instructions
6-Month Mentored Nonprofit Fundraising Certificate Program
This week's resources:
Class Home Page for Mentored Fundraising
Fundraising Assignment 5 Homework Instructions
Assignment 5: Collecting Subscribers. How to Build an Email List Now & Accept Donations Online.
Get collecting right away: Quick start volunteer and subscription forms. Exploring online donation options to accept donations online.
It is said that "Email is King: Get Started Building Your List." And it is true. A truly interested subscriber to your newsletter is going to represent much more ongoing, loyal support—than a casual visitor who found you through a general search on the Internet. You can send subscribers regular newsletters on compelling topics that will inspire them to donate, volunteer, tell their friends and give you extremely valuable feedback.
Email list building is an important thing that you need to begin doing now. In this assignment, we will focus on:
Ways to capture new, loyal subscribers on your website and start a subscriber list
How to find an organization to use for sending out email newsletters to your list
How to collect donations online
Discussion:
Participants in this fundraising training program are quite varied when it comes to Internet technology. Some work with nonprofits that have websites—some don't. Some have website development skills, some don't, and some have IT technicians which handle the website for them. That said, most email service providers have simple techniques for incorporating forms. They can be as simple as putting a "Subscribe Now" link on a webpage that leads to subscription form at their site. Many have forms that you or a friend can embed into your subscription page fairly easy. The homework to turn in for this assignment is very simple and does not require you to do any work on your website.
1. INTRODUCTION TO LIST BUILDING
The reason for introducing the topic now, is that you might need to make some decisions. If you don't have a current system for collecting emails, today's introduction will give you a few months to explore possibilities and sign up for a service in preparation for sending email newsletters later in this training program.
Step One.
Do you currently have an email newsletter service provider?
Do they provide you with a way for people to sign up for your newsletter?
Can you incorporate their signup feature into your website?
If not, Do you have an alternate way to collect subscription, volunteer and contact information on your website?
If the answer is no to one or several of these questions read on!
How to Collect Subscriber Information.
This is the simplest thing to do to begin collecting names:
1. Install the WordPress WPForms plugin. It is a super simple way to develop a form for your WordPress website that will collect names, email addresses, and other useful information. You can even connect it to your email service.
https://wordpress.org/plugins/wpforms-lite/
A little more complex:
2. Set up a Google Drive account. It's free for nonprofits. Google Drive has a feature very similar to an Excel spreadsheet—but that also allows you to create a form that you can paste into your website. Visitors can subscribe using one of these forms, and Google Drive will send you an email letting you know that you have a new subscriber.
https://support.google.com/drive/answer/2424384?hl=en
We use Google Drive to create different kinds of forms. Here is a Contact Form which doubles as a subscription form:
https://nonprofit.csd-i.org/contact-us-with-nonprofit-questions/
A tad more complex:
3. MailChimp. MailChimp is a very popular email newsletter service provider that is easy to use and quite flexible and also has subscriber list building tools. Here's what they say:
Forever Free Pricing
You can send 12,000 emails a month to a list of up to 2,000 subscribers with MailChimp's Forever Free plan, though a few features are only available to paying users.
Learn more and sign up:
https://mailchimp.com/pricing/free/
If you don't already have a newsletter service provider, this may be your best of the three options.
The benefit is that with MailChimp you get integration between a subscription form, your website, and an email list—and you can actually begin sending emails too. One stop shopping!
MaleChimp has several simple ways of creating email subscription forms.
Each subscription form is linked to a specific subscriber list. So for example, you can create a general newsletter subscription form, a donor newsletter subscription form, and a volunteer newsletter subscription form.
This means that if you have a special volunteer event on an upcoming weekend—you can send the announcement exclusively to volunteer subscribers. Or perhaps, you have a fund-raising golf tournament coming up—you can send that announcement exclusively to donor subscribers.
They also have several ways for visitors to access the subscription forms—from the super simple to a form embedded in your subscription webpage. Here's an example of an embedded, MailChimp subscription form: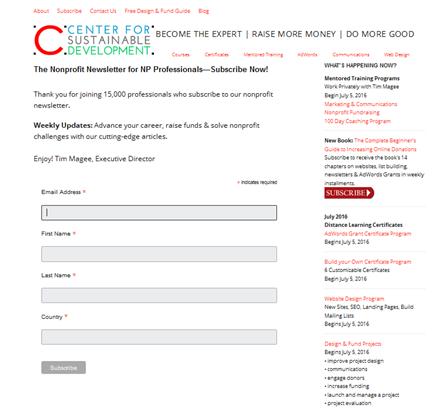 Because MailChimp has been around for so long, it works seamlessly with a number of other types of web service providers—such as WordPress. MailChimp has a simple WordPress plugin which helps to insert a subscription form into your website.
In Summary, I would suggest creating a MailChimp account and keeping your subscription forms and email newsletter generation under one roof.
Subscriber Forms. What information should you ask of a new subscriber?
In creating a form one of the first decisions that you have to make is to determine what information do you want a subscriber to provide on the subscription form.
Here is a great article by Peep Laja of Conversion XL on great sign-up forms:
https://conversionxl.com/blog/14-steps-to-building-sign-up-forms-that-convert/
In his 14 steps he gets into a lot of great detail which is really useful, but as this is a beginning assignment—let me summarize:
1. Fewer is better. A fewer number of fields is better and leads to more sign-ups. Do you really need their fax number?
2. Sell it. What benefit will they get by signing up?
Here is an example of a free ebook we offer in exchange for a subscription:
https://nonprofit.csd-i.org/subscribe-csdi-newsletter-get-free-beginners-guide/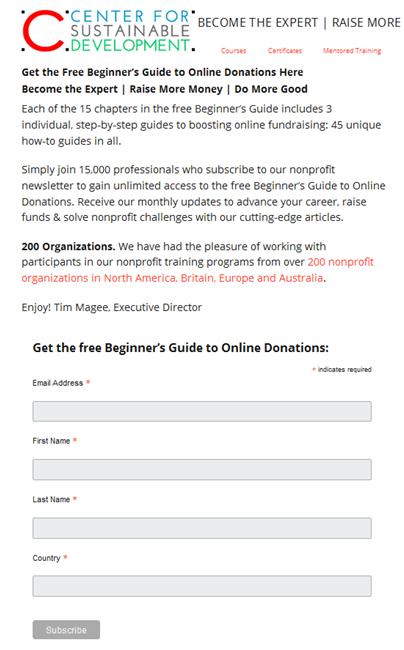 Once you get your forms up and running, you can go back to MailChimp and begin utilizing some of their more advanced tools to make your forms more effective.
What do you need to know? Here are four common informational fields:
1. Email address. The really hard core list building gurus would be happy just with an email address—period. Make it as easy as possible for someone to sign up.
2. First name. A first name adds a nice touch. This way, when your newsletter goes out—right at the top it says "Dear Tim." I think it's a personalization that everybody appreciates. If your nonprofit specializes in working with homeless mothers, this can also be a way to see if a guy is signing up without having to ask additional questions.
3. Last name. I would say last names are optional. I like asking for people's last names. It allows me to see if someone's signed up for the email twice, or to see if a person who's enrolled in a course is also signed up for our newsletter—that sort of thing. On the other hand, you can find out their last name later. If someone wants to make a donation to your organization, volunteer, or sign up for your golf tournament—you'll find out their last name then.
4. Specialty information. There might be a reason for you to have a special piece of information about a newsletter subscriber. This largely has to do with tailoring your communications to them. You don't necessarily want to be sending requests for a donation to a class of high school kids who volunteered for you in the fall clean-up.
This is called segmenting. So you might find that you have several different mailing lists. One for donors, one for volunteers, and one for clients. You could send them specialized newsletters that they might appreciate more than a general newsletter.
Location
You might have geographic segmentation. So perhaps you have one food bank in downtown San Francisco, and a second food bank in Berkeley. The donors might be the same for those two locations, but the volunteers and the clients might be completely different groups because of the locations of the food banks. So in your case it might be good to ask for a city or county.
At CSDi we ask for a subscriber's country. And the reason is quite simple. We provide training in international development, and also training for North American nonprofits. Two completely different programs—so we need to know where a person comes from so that we can make sure they receive a newsletter tailored to their interests.
Drop down lists in a form field can help you by categorizing answers so they are more consistent—and also speed things up for the reader.
In conclusion, I would suggest keeping the sign-up form as simple as possible so you don't scare anybody away, but think carefully about specialized information that will help you segment your list.
2. EMAIL NEWSLETTER SERVICE PROVIDERS
Some of the list building services that we discussed above also provide the service of sending out your email newsletters. However, Google Drive which has a great service for developing subscriber forms does not provide a sophisticated email newsletter service.
So here are two email newsletter services that we have used for several years and are very happy with.

MailChimp. MailChimp is a very popular email newsletter service provider that is easy to use and quite flexible and also has subscriber list building tools.
Network for Good
Network for Good is an organization providing services specifically to nonprofits. One of their services is a relationship that they have with an organization called Constant Contact that provides an email newsletter program. Network for Good will provide you, a nonprofit organization, the Constant Contact email newsletter service at a greatly reduced nonprofit cost.
https://www.networkforgood.com/
3. ACCEPT DONATIONS ONLINE:
Just in case you don't have an online system to accept donations let's look at a couple of options that you can explore. You might need to confer with your Executive Director or bookkeeper.
The way that these online services work is that you set up an account with them that links to your organization's bank account. In a similar fashion to setting up a subscription form, you set up a payment (donation) form. Also, similar to subscription forms, these payment forms can range from super simple to a more sophisticated embedded form.
PayPal
PayPal has a program for nonprofits where they will process your payments for 2.2%. They say:
PayPal offers discounted transaction rates for 501(c)(3) nonprofits. No extra fees for setup, statements, withdrawals or cancellation.
2.2% + $0.30 per transaction and no monthly fee.
https://www.paypal.com/webapps/mpp/donations
CSDi uses PayPal. We've been using them for a number of years and are all set up with a number of payment form templates that we can modify quickly for different purposes.
They have a simple form to accept donations already set up which you can begin using right out-of-the-box.
Stripe
Stripe is an Irish technology company that allows both private individuals and businesses to accept payments over the Internet.
2.2% + $0.30 per transaction and no monthly fee.
https://stripe.com/us/pricing
Stripe become popular with small e-commerce businesses and is frequently packaged with different web platforms. So, for example, SquareSpace uses Stripe for their e-commerce program.
Other nonprofit service providers with online payment systems.
Google Wallet & Google Grants
Google Wallet service fee: 2.9% + $0.30 per transaction.
https://googlefornonprofits.blogspot.com/2012/10/grow-your-gifts-increase-online.html?m=1
Mightycause Donation Widget
Mightycause service fee: 4.9% processing free per donation.
https://www.mightycause.com/guide/donation-widget?format=html
Network for Good DonateNow Lite
DonateNow Lite service fee: 5% processing free per donation.
http://www.networkforgood.org/npo/fundraising/donations/direction.aspx
In Summary:
If you don't already have an online payment system to accept donations online check out our recommendations.
Also, research other possibilities on Google, and ask your nonprofit friends.
There is a small learning curve to signing up for these programs and launching your first donation form—but it's not too tough—and they all have tremendous telephone support systems. So get going!
Homework:
Just send me a short email with:
1) Do you have a way to collect subscriber information—and what/who is it?
2) What information do you ask subscribers for?
3) Do you have an email service provider—who?
4) Do you segment your lists? Segmented by what?
5) Do you have a way to accept donations online—if so, who or what?
See you in Assignment 6!
Copyright © Tim Magee