Mentored Fundraising Assignment 7 Homework Instructions
6-Month Mentored Nonprofit Fundraising Certificate Program
This week's resources:
Class Home Page for Mentored Fundraising
Fundraising Assignment 7 Homework Instructions
Discussion:
This is a fairly technical discussion. If you like, you can simply read and enjoy—and save the ideas for a future date! Participants in this fundraising training program are quite varied when it comes to Internet technology. Some work with nonprofits that have websites—some don't. Some have website development skills, some don't, and some have IT technicians which handle the website for them. There is no homework to turn in for this assignment. Simply send me an email to let me know that you read it.
Assignment 7: Incentives. Email List Building: Do you have a free offer? Compiling an e-book to entice new subscribers.  
Having a free offer is a great way of starting your email list building project. You've seen this many times before yourself—you read about an interesting handbook that could be useful to your organization. When you go to the website and click on 'download the handbook' you're sent to a newsletter subscription form.  
So you need to make the decision whether to sign up for the newsletter and download the handbook or not. Chances are, if the handbook is indeed interesting to you, you might consider receiving the newsletter from this organization if they provide other valuable resources for you.  
So to do the same thing. You need six things—many of which you do once and use over and over again:
A resource that your target audience would be interested in having access to.
A landing page which tells visitors about the resource and links to the subscription page.
A subscription page for the resource.
A subscription form specific to that resource.
A subscription thank you letter/confirmation which gives a subscriber a link to the resource.
A page on your website with a link to download a PDF document or a page on your website with links to book chapters.
STEP 1. The Resource.
The resource can be almost anything. If you are just getting started with the free offer, keep it simple—we don't need to have you write a complete book here.  
Be creative. This could be as simple as a PDF handbook that you saw (that someone else wrote) on "How to Help the Homeless." You've downloaded it yourself to your website and you can make it available to other people with a subscription to your newsletter.  
It could be a report that your organization has put together—that would be interesting to potential donors and volunteers.   If your nonprofit has a revenue generating service—like a training course—you could provide first week for free in exchange for a subscription to the newsletter. This way you get a new subscriber and the potential for your course (if they liked week one enough to enroll in the whole course).  
It could be a page of resources that are in the form of links. "The 20 Best Resources on Feeding the Poor." You simply collect over time a list of resources that are useful to you, post them to a webpage, and give your site visitors access to the list of resources with the subscription.  
So all you need is a single, short webpage, with either a 1) link to a webpage, 2) a page with a list of resources, or a link to a downloadable PDF.  
STEP 2 . The Landing Page
This landing page will feature your resource. For example, it could be a blog post about the resource. But this landing page will have a subscription link. It might be a simple form on the landing page that says 'subscribe here to download this great resource,' or it could be a link to a subscription form which says the same thing.  
The landing page can also tell people how the process works: "Subscribe to our monthly newsletter and we will send you a confirmation email immediately to your inbox with the download link."  
How to do this:
Create a new webpage called something like:
Nonprofit Marketing Plan: Set a goal, target a market, tell your story.  
You can see the real page here:
https://training.csd-i.org/beginners-guide-resources/beginners-guide-chapter-7/
 
And then, above the fold, you give readers the option to subscribe and download the resource.  
So, write your content. You can have something like this above the fold which will encourage them to go to your subscription page to subscribe and receive the resource.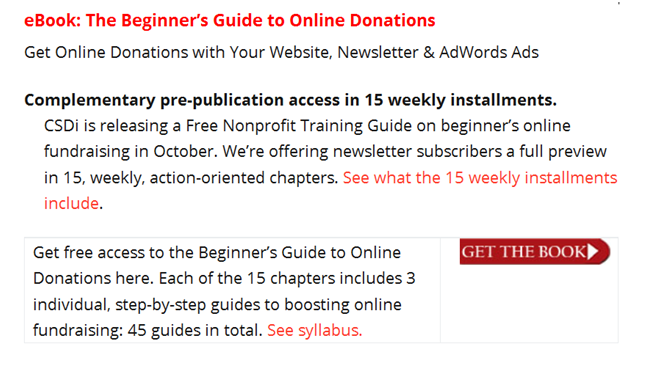 You can see a real example here:
https://training.csd-i.org/beginners-guide-get-online-donations-with-your-website-newsletter/
To attract attention, this could be indented, it could be in smaller print, it could be in a box on your page.  
Just below it, you can carry on with your landing page's subject.  
STEP 3. Subscription page.
When they click on "Get the Book" they will be taken to a much simpler, shorter landing page which is nothing more than a subscription page. You don't want to have links to other pages on this page—the goal is to get them to subscribe. Period.  
You could say something like this: "Get the Free Beginner's Guide to Online Donations  
Get your copy of the free Beginner's Guide here. Each of the 15 chapters includes 3 individual, step-by-step guides to boosting online fundraising: 45 unique guides in all.  
[SOCIAL PROOF]
Simply join 15,000 professionals who subscribe to our nonprofit newsletter to gain unlimited access to the free Beginner's Guide.  
200 Organizations. We have had the pleasure of working with participants in our nonprofit training programs from over 200 nonprofit organizations in North America, Britain, Europe and Australia.  
Enjoy! Tim Magee, Executive Director"  
STEP 4. The MailChimp Subscription Form.
The subscription form for each free offer that you have will be unique to that offer.  
However, that said, you may only have one offer, with one unique subscription form, that 20 of your different webpages link to. So it's not as if you're going to be creating a unique subscription form every week.  
The basic MailChimp form itself can be copied and pasted from another one of your standard forms—and then you can do some simple editing. The only difference is that we're going to write an automated thank you note and confirmation note that MailChimp sends out.  
HOW TO DO THIS
Much like we did in the previous assignment, log on to your MailChimp account. At the very top click on "Lists."  
Pick a list that you could copy. Just to the right of the list is a drop-down menu with "replicate" in it.  
"Replicate" the list and simply, change the name to reflect the name of your free offer.  
Then, follow the directions for embedded forms in the previous lesson. You will see that in the embedded form page, your new subscription form can be a copy from the previous one—so there won't be too many changes for you to make.  
You can then simply copy the HTML for the embedded form and paste it into your site as before.  
Just below the MailChimp form, on your Subscription page, write in something like this: "You will now find a confirmation email in your inbox. Just click on the link to confirm your subscription. You will be forwarded to the book's table of contents where you can access each chapter. Thank You!"  
When you are done, your Subscription page will look like this: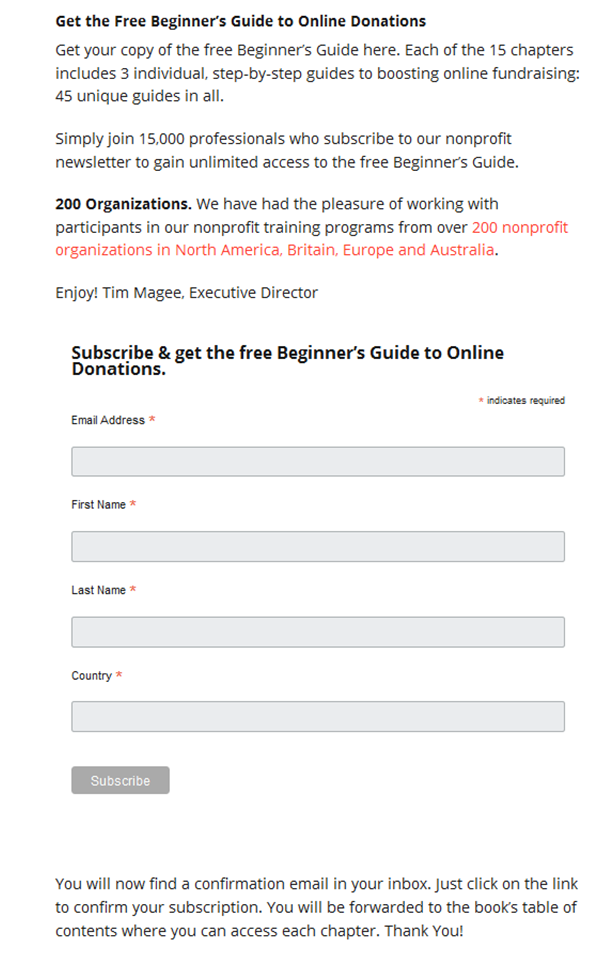 You can see the real page here:
https://training.csd-i.org/beginners-guide-resources/subscribe-get-the-free-beginners-guide-to-online-donations/
After they click "Subscribe" MailChimp will automatically insert the message:  
"Almost finished… We need to confirm your email address. To complete the subscription process, please click the link in the email we just sent you."  
STEP 5. The MailChimp thank you note/confirmation email.
After subscribing, MailChimp will send the new subscriber an automated thank you note/please confirm email something like this: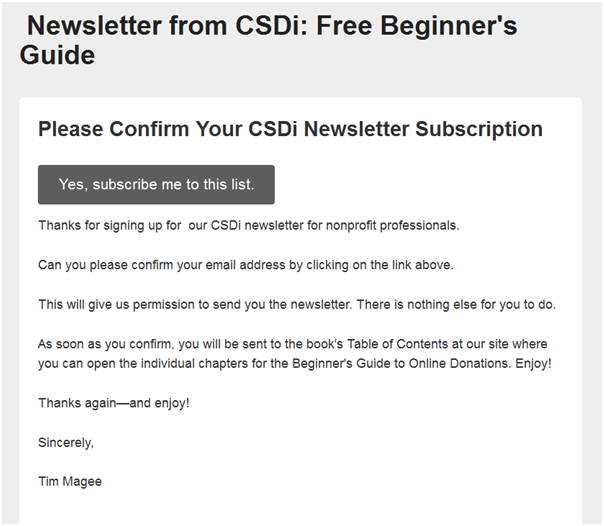 How to do this:
Now go back to "General Forms" and the drop-down menu beneath "Create Forms," click on 'Opt-in confirmation mail' and paste in something like the message above right into the box.  
Save it.  
When new subscribers click on the "Yes, subscribe me to the list" link, MailChimp accepts their confirmation (i.e. captures the email address) and automatically routes them to a page in your website.  
It would route them to the page for accessing the offer—whether it is a link to download a PDF document or a page on your site.  
In today's example it is a webpage rather than a live link to a PDF. The final webpage with the information they need to access the resource could look like this real page:
https://training.csd-i.org/beginners-guide-resources/thank-you-beginners-guide-to-online-donations-table-of-contents/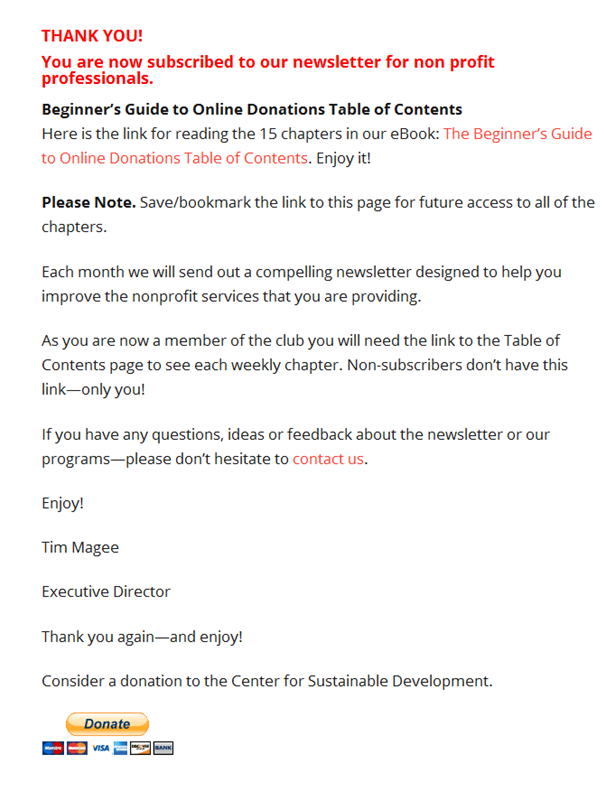 How to do this:
Now go back to "General Forms" and the drop-down menu and click on "Confirmation 'thank you' page."  
At the very top it says:
"Instead of showing this thank you page, send subscribers to another URL"  
Simply paste in the URL for the page (like the thank you page above) where they can access the resource. And you're done.  
Save it.  
The thank you page links to this page which has live links to each chapter: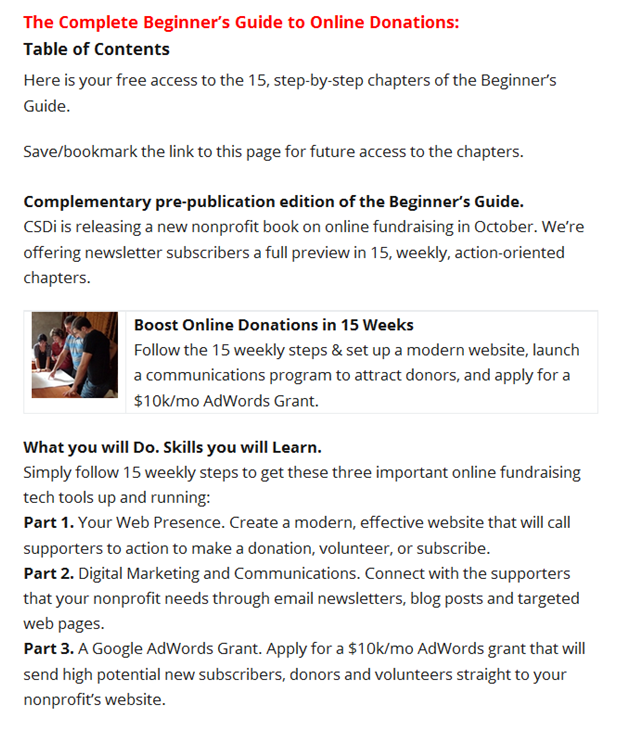 Here is the actual link to the table of contents:
https://training.csd-i.org/beginners-guide-resources/
The beauty of this system is that the five pages described above are all automatically linked together and can be copied and pasted from one MailChimp subscription form to another, and from one of your webpages to another—so there really isn't a lot of work.  
Now, I would do what you did in the previous assignment and double check this whole system. Just follow your own directions to sign yourself up for a subscription (or a donation or volunteer position) and go through the different steps to make sure that the whole process works.  
There is no homework to turn in for this assignment. Simply send me an email to let me know that you read it.  
Copyright © Tim Magee